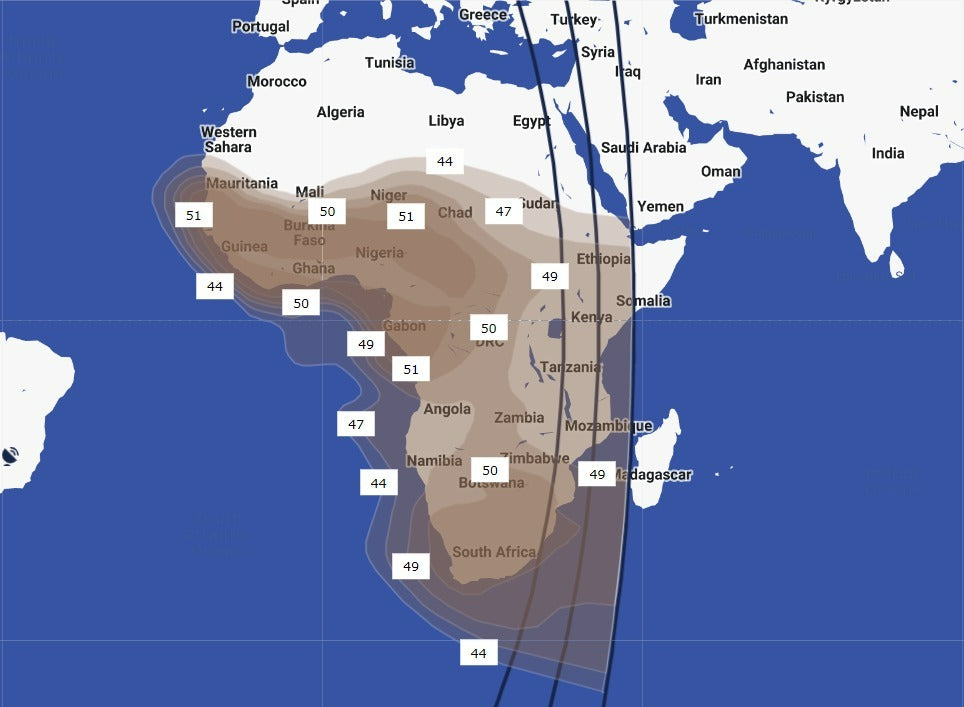 Satellite T11n - 37.5° West
Ku Band - 37.5° West
Bandwidth Packages
Prices and iDirect VSAT Services
The listed prices refer to a 12-month and may vary depending on contract duration and bandwidth.
Equipment
Technical Specifications

Satellite
T11N Africa
HUB Platform
iDirect Evolution
Frequency
Ku-Band Standard
Minimum Remote VSAT Hardware

Antenna
1.2m Ku-Band Linear
BUC
3W for up to 512 Kbps Upload,
6W for up to 1024 Kbps Upload
LNB
Standard Ku-Band
Modem
iDirect X1, X3, X5, iQ
Satellite & Service Information
Satellite Overview
High-powered Ku-Band connecting Europe, Africa, the Americas, and the Atlantic Ocean Region.
Preferred choice for VSAT and IP solutions within Europe, Africa, the US & Central America, and for connectivity between these regions.
Leading satellite for maritime and aero broadband services.
Wide Atlantic Ocean beam extends from the Americas to Europe & Africa and from the Arctic Circle to the Equator.
Ideal for video contribution services – intra and inter-region.
Key Facts

Transponders
6 Ku-Band @ 27MHz
33 Ku-Band @ 54MHz
Beacons
11699.50 MHZ (V)
11198.25 MHZ (H)
Request for a quote